Plumbing Inspections in Modesto
Keeping an Eye Out for Trouble in the Central Valley
Diagnosing plumbing problems is difficult because many of them cannot be seen without the necessary tools and expertise. Thankfully, Mainline Plumbing Inc. has what you need to solve your problems. Aside from being the best and most cost-effective way to detect any issues with your fixtures, there are many reasons why a convenient Modesto plumbing inspection might be needed.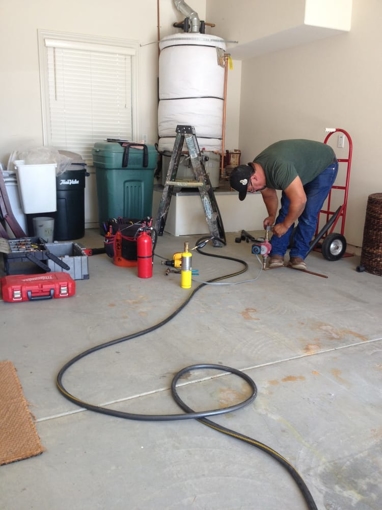 A plumbing inspection might be the right service for you if:
You are remodeling your kitchen or bathroom and want to ensure that the system can withstand the new additions
You want or need to inspect your fixtures to see if anything needs to be repaired or replaced
You are buying a home and want to make sure you don't inherit any plumbing problems that the previous owners left behind
You suspect that there could be a leak somewhere on your property
Whether you have lost a ring down your sink or you want to determine the quality of your fixtures, our Modesto plumbing professionals in the Central Valley can give you the help you need. Call (209) 560-6652 to schedule your inspection service.
How Often Should I Have My Plumbing Inspected?
Most plumbing experts recommend you have your plumbing system professionally inspected every two years. With that being said, certain circumstances may warrant more frequent inspections to detect and prevent the development of major plumbing issues.
You may want to schedule a plumbing inspection sooner if:
You do not know when your plumbing was last inspected
Your property has several mature trees with large roots that could be damaging pipes
You are moving and want to boost potential buyers' confidence
Your area has experienced severe hot or cold weather
A More Thorough Inspection
Fortunately, we live in a time of advanced technology and our plumbing technicians have the resources needed to provide a better look at your fixtures. Video inspections are a great way to properly analyze the inside of your plumbing systems. This more thorough type of inspection can inform us about the quality of your pipes, approximately how soon they should be repaired, and if they need to be replaced. We can also use this modern equipment to look for valuable items that may have fallen down your drain.
The best way to prevent emergency plumbing problems is to request an experienced plumber to inspect your home. Our Modesto plumbers can use non-evasive tactics to determine the quality of your pipes and how soon they will need to be repaired. With the help of our plumbing inspection services in Escalon, you can ensure that your systems work properly.
Contact us at (209) 560-6652 to see how a Modesto plumbing inspection can benefit you!
Your Happiness Is Our Main Concern
Very fast, professional, and helpful. - Tiffany

They were out very quickly, even though it was a Sunday, and they were extremely professional - Kimberly

Mainline came out and took care of the problem without any problems at all. - Aaron S.

I'm giving him 5 stars. Very happy customer. - Vincent T.

I really appreciate the work these two guys did. - Lauren H.