Water Line Plumbing Services in Modesto
Trusted in the Central Valley for Over 28 Years
Everyone relies on a modern plumbing system these days, no matter where they live. If you want to safely bring water into your home, you need a reliable water line to depend on. Because they're located underground, they're very difficult to access and require professional assistance when there's a problem. That's when our Modesto plumbers come in. We are able to repair, install, and replace water lines in commercial and residential spaces.
Call (209) 560-6652 to schedule your next service with our local Modesto plumbing service experts.
Knowing When It's Time for Repair
If you have reason to believe that there is a problem with your water line, it is important to seek help right away. Serious property damage, financial loss, and reduced water quality are just a few of the ways that a damaged line can compromise you and your home or business.
We recommend that you schedule a water line service if:
You hear water running when no water fixtures are on
There's a noticeable spike in your water bills
You notice wet spots in or around your property
There's a sudden drop in water pressure
Feel free to reach out to our Modesto plumbing company if you have any suspicions about your water line. We can perform a thorough plumbing inspection to help determine if your line is in need of repair.
Replacement & Installation
Unfortunately, there are times when plumbing fixtures need to be replaced. The downside to a water line running underground is that over time, nature takes a toll on the lines. Roots can grow into pipes and pipes also corrode and rust on their own.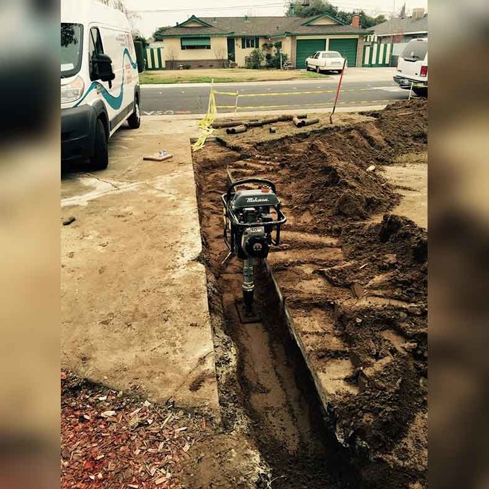 You can rest assured that we use only the finest materials and tools to install and replace pipes. Because we are local and family-owned plumbing company in Modesto, we want to make sure our city is well taken care of, and that can't be done with plumbing fixtures that are anything less than the best.
Contact us today to schedule your water line plumbing service in Modesto. You can reach us at (209) 560-6652.
Your Happiness Is Our Main Concern
Very fast, professional, and helpful. - Tiffany

They were out very quickly, even though it was a Sunday, and they were extremely professional - Kimberly

Mainline came out and took care of the problem without any problems at all. - Aaron S.

I'm giving him 5 stars. Very happy customer. - Vincent T.

I really appreciate the work these two guys did. - Lauren H.